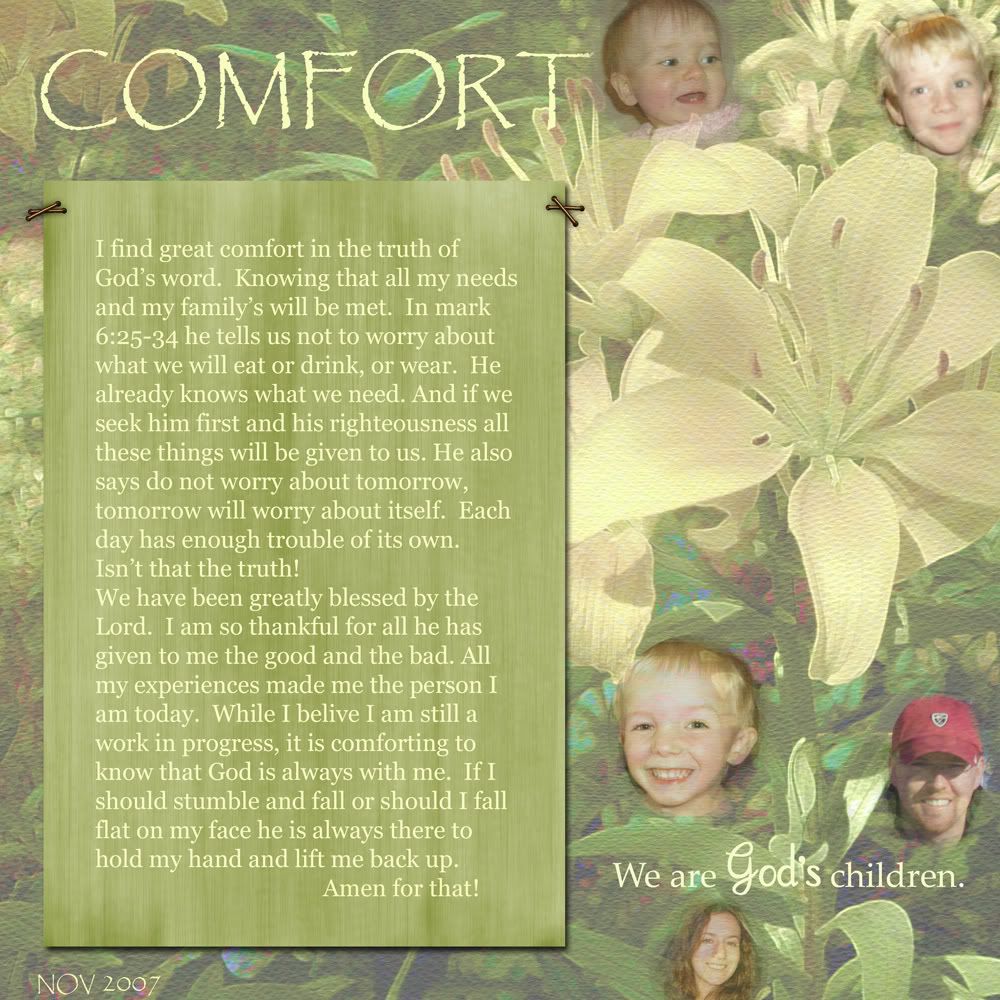 click on photo to enlarge
I wasn't sure what how to do my lo at first. I looked at Hummie's and hers was about the comfort of wine. Which made me realize I don't really do anything to comfort myself.
When I think of comfort the first thing that comes to my mind is my bed! lol But I couldn't take a picture of that because then I have to make it (something I rarely do...sad but true) and my husband was already in it. Before I had kids cups of tea and long soaks in the tub were so comforting to me. Now thats a luxury I can rarely afford. (time wise i mean).
Anyway I needed to dig a little deeper and that is how I came up the journaling.
Journaling reads:
I find great comfort in the truth of God's word. Knowing that all my needs and my family's will be met. In mark 6:25-34 he tells us not to worry about what we will eat or drink, or wear. He already knows what we need. And if we seek him first and his righteousness all these things will be given to us. He also says do not worry about tomorrow, tomorrow will worry about itself. Each day has enough trouble of its own. Isn't that the truth! We have been greatly blessed by the Lord. I am so thankful for all he has given to me the good and the bad. All my experiences made me the person I am today. While I believe I am still a work in progress, it is comforting to know that God is always with me. If I should stumble and fall or should I fall flat on my face he is always there to hold my hand and lift me back up. Amen for that!
Fonts used: papyrus, georgia, missed your exit